IN MEMORIAM OF A.VAITKŪNAS: "WHITE APPLE-TREE" 0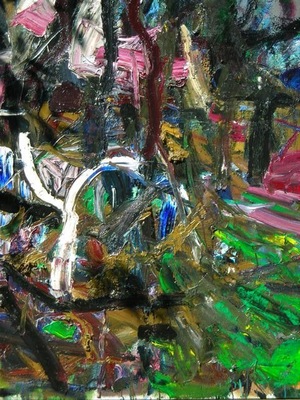 (Arūnas Vaitkūnas (1956-2005). "White Apple-tree" 2004, canvas, oil, 120x90cm, Margionys) Aušra Barzdukaitė-Vaitkūnienė, July of 2007
www.kamane.lt, 2007 08 14
A.Vaitkūnas. White Apple-tree. 2004.
Motif of A.Vaitkūnas' apple-tree
July 1 of 2007, Sunday. It is summer, but it feels like autumn would be coming soon. Time is a strange thing. It flows in the same manner as for others on the surface. The internal time is my past and present. It is even more strange that my past may turn into present.
The internal ear has preserved all intonations of Arūnas' voice, I may listen to poems of V.Mačernis cited by him. Arūnas used to read them by heart, with unforgettable expression, emphasising some words specifically. Like in painting, he used to put all the necessary stresses.
The Sunday of July is very variable – it is raining or the sun is shining at another moment. Meanwhile, I am listening to the voice of Arūnas: "It was October... Kittens of wind are playing autumn with chirring leaves of the yard..." (V. Mačernis)
Weekends of September and October of 2004 in Margionys.
Paintings were created from nature.
Arūnas: "The colours are extremely good now!". "The light is superb today!".
He chose classical motives for painting. It is the 21st century now, and who may dare choosing such a motif and painting a white apple-tree? Antanas Samuolis and his "White Apple-tree" has become classics already. Maybe every painter may have his "White Apple-tree"? Two paintings – by Arūnas and A.Samuolis.
Arūnas painted it a couple of days, scraping and repainting. The canvas is covered by a thick layer of paint, the strokes are woven together with each other. It seems that everything is done.
After half an hour all painting has turned into a grey mass of paint in a bucket. Arūnas paints anew and waves the brush as a sword. I avoid coming close. I know that one careless step may destroy the mystery of creation.
Finally he hangs the painting on the wall of the old grey barn:
"No, I will "eat" it soon!"
I plead him to leave it – I think that the painting is good already.
When I return after some time, the work has been repainted again.
Now it is the one that has been left by Arūnas. The motif may also be seen.
I whiten the stem of that apple-tree in spring.
I call that work "White Apple-tree" as Arūnas has not written anything on the other side. He called it "Apple-tree" while painting. He was not satisfied with this work, I believe he would have repainted it many times. However, a painting becomes mature like wine sometimes. It seems that only some time has passed, and the painting is becoming deeper and gains the colour of dark velvet.
The strokes form the vertical structure of the work creating an unbreakable fabric of bush strokes. Even though the colouring is rich with nuances of shades, the theme is the meeting of black and white. The contrast of these almost pure colours is the essence of the painting. Or-or. No compromise.
The background sounds as music. The intensive green, soft violet and strict ultramarine tones protrude in autumn, especially before winter. Still, the meeting of black and white is like a prophet of future in the painting. How Arūnas, being a perfect colourist, could let himself use such a harsh contrast?
The white apple-tree as a sign gains the motion of a turning and resisting tree, while pure black colour rises like a scream behind it in verticals.
The white apple-tree is like white bones against black trunks and rising branches. What is it? A sign? Foreseeing of future?
That autumn was extremely restless for me. The painting has been left. Painting.
The spring of 2005 is still in future. Georgia and the kite.