THEATRE LIKE TEST OF HUMANITY 0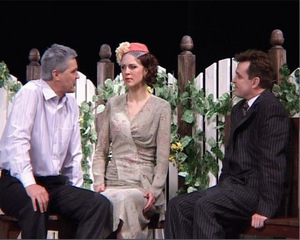 Margarita Pilkaitė
www.kamane.lt, 2007 04 06 Scene from the performance "All My Sons" and actors: (from the left) V.Kaniušonis, E.Užaitė and V.Fijalkauskas. Photo by Paulius Štaras. In brief: Every new work of the director Jonas Vaitkus arises big curiosity and interest, what should be expected from the performance this time, whether it will shock or say something important. Really, it may be stated that the director has surprised the audience with his newest performance "All My Sons" staged according to the play under the same name by Arthur Miller.
The shockingly primitive scenography (white fence with a gate decorated by plastic flowers, wicker garden furniture, direct citing of American suburbs environment) has most probably been created purposefully. The clothes of actors also testified about a certain historical time and even a geographical place. According to the artist Eglė Richter, much attention was allocated to the clothes as they had to render the spirit of post-war America.
This attempt has been implemented successfully – some mise-en-sc`enes seemed as it transferred from cinema films. The popular post-war music also helped to create this mood. However, the decision of the director of push the scenography, costumes and music to the second plan prompts that the main load had to be born by actors, their mastery demonstration and their skills to reveal characters with nuances and sensitivity. Simplicity, reality is emphasised in this performance evidently, and theatrical, formal and purely aesthetical solutions are refused. The aim of the director is to create a drama using the talent force of actors only.
Thus, a spectator should expect a touching content in the performance. Perhaps this decision of the director is a test to a spectator showing his/her skill to hear, see and rely on his/her feelings rather than senses and intellect? Therefore, the most difficult task was the role of mother (Kate Keler) who was created by Nijolė Lepeškaitė. It is a multi-layered and complicated character – Kate mourns the disappearance of her son Larry refusing to recognise the fact of his death, she hides the crime of her husband and is torn by conflicting feelings to Ann (Edita Užaitė) – former fiancée of Larry and the present love of her other son Chris (Vidmantas Fijalkauskas). N.Lepeškaitė copes with the task of creating this role successfully.
Vytautas Kaniušonis (Joe Keler, father) creates a strong, powerful character, the real head of a patriarchal family. His duet with the son Chris (V.Fijalkauskas) is like a confrontation of two irreconcilable forces, conflicting attitudes and mentalities. Meanwhile, V.Fijalkauskas creates a very positive and human personage. The idealist attitudes of Chris and his wish to close eyes against the reality is conflicting with the behaviour of other family members. Still, the movements of V.Fijalkauskas on the stage were not expressive and natural enough, they created an illusion of lack of comfort or even real pain. The role of Edita Užaitė (Ann Diver) was divided into contrasting segments the most – from a naïve girl in the first part she turns into a woman torn by contradictions, who has to choose between personal happiness and family interests, in the second part.
Every actor has to create a certain relation with other actors; therefore, ensemble is of extremely big importance in the visually ascetic performance. Rather primitive scenography and dramatic internal conflicts - Vaitkus joins these elements in the provocative manner. The performance is really a test of humanity and sensitive listening, which shows that a theatre spectator may still observe a drama of life without any visual effects in the 21st century and that some values are eternal.