VOICE OF PROFESSIONAL MUSIC GETTING STRONGER IN CHURCH AS WELL 0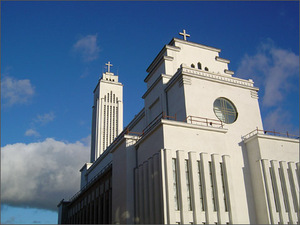 Osvaldas Grinius
www.kamane.lt, 2006 11 13
In brief: Music dedicated to sacral song and organ sounded at the monumental Kaunas Christ's Resurrection Church last weekend. It is one more sign that the voice of professional music is getting stronger at churches.
The Saturday concert was organised on a special occasion – for the 85th birth anniversary of Kaunas composer and organist Pranciškus Beinaris. Music was performed by Kaunas State Choir, the soloist of the Lithuanian National Opera and Ballet Theatre Regina Šilinskaitė, the soloists of Kaunas State Musical Theatre Giedrė Juknevičiūtė and Mindaugas Zimkus.
Kaunas State Choir performs large oratories with the accompaniment of an orchestra rather frequently. This time it was pleasant to listen to sacral songs without the instrumental accompaniment performed by the choir. When the huge collective sang the chant of P. Beinaris "Mother is You" like one well-tuned instrument, the abundant audience calmed down. More emotion was granted to the concert by the fact that St. Mass was held by the bishop Juozas Preikšas, who sang at Kaunas Arch-cathedral Chair headed by P. Beinaris some time ago.
After the Mass several other music pieces of the composer, whose jubilee was commemorated, were performed. The pieces of P. Beinaris played during the St. Mass and at sacral music concerts are worth to be played in the lay music scene of Lithuania as well.
While choir music prevailed on Saturday, the audience which gathered at the Resurrection Church on Sunday could listen to the music played by the organist Dalia Jatautaitė and the soloist of Kaunas State Musical Theatre Nomeda Vilkanauskaitė. It was a concert from the cycle "Sunday Music" organised by Kaunas religious music centre. The climax of this concert may be called the toccata of the French organist and composer E.Gigout performed with mastery by D.Jatautaitė, who proved to be a technical and emotional organ player.