IS ANOTHER ANGLE NECESSARY? 0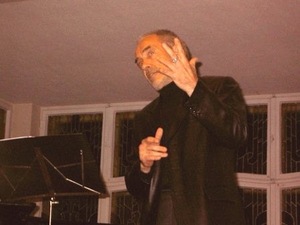 Osvaldas Grinius
www.kamane.lt 2006 12 07
Juozas Rimas. Photo by L.Klizienė.
In brief: The poster of the known oboist Juozas Rimas who gave a concert at Kaunas Artists' House was intriguing – it stated that the master of oboe will be singing Lithuanian folk and Neapolitan songs. The majority of people who came to the concert knew what they should expect.
And thus the magic sounds of folk songs spread in the hall without any introduction. J.Rimas is a wonderful interpreter – his texts were burning with fire and touched the audience. The performer moved with his whole body while singing trying to put as much expression into words as possible. Moreover, the vocal of the professor is close to the intonation traditions of Lithuanian folk songs. It sounds slightly dark, clear and volatile.
Meanwhile, the performance of Neapolitan songs is another thing. They are known to listeners from famous opera soloists – V.Noreika, E.Kaniava. Italian songs may not be separated from the academic manner of singing. They demand a wider range of voice, even phrasing. Still, the voice of J.Rimas remained as it was in the performance of folk songs. The professor proved that he could sing in academic manner but clearly he needed more physical effort to reach the high notes or to pronounce the text clearly.