IMAGE TROUBLES OR – ABOUT RUSSIAN LANGUAGE AT KAUNAS CASTLE 0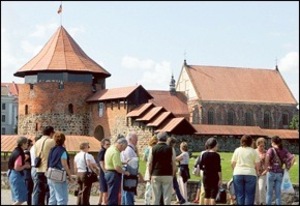 Letter of art researcher Dr. Rasa Andriušytė to "Kamanė", 2006 08 09
Photo by A.Barzdžius
In brief: One day in August the art researcher Dr. Rasa Andriušytė was walking round the old town of Kaunas and dropped into the tourism information centre established in Kaunas Castle. She found out there that it was not possible to communicate in the Lithuanian language in the centre – as it became clear, two Latvian students participating in Leonardo da Vinci project were doing their internship at the centre.
Thoughts arose about the sixteen years of Lithuania's independence, the state language, about Kaunas which is considered the bastion of Lithuania. It appears that Kaunas is trying hard to keep the situation that Riga would be called the capital of Lithuania and Lithuanians would be called Russians in the world.
The art researcher undersigns: "vasha" Rasa Andriušytė directly from Kaunas castle.