Faustas Latėnas, "Lithuania is undergoing a period of neglect" 1
Interview by Deimantė Dementavičiūtė-Stankuvienė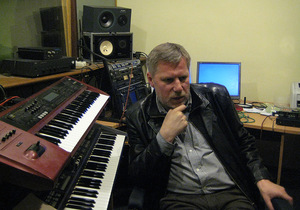 In brief: This year, Faustas Latėnas - cultural figure, Prime Minister's adviser on cultural matters, and composer, who has won many important awards and continues to promote Lithuania's name abroad - is celebrating his 60th anniversary. The experience that the interviewed artist has accumulated is impressive, therefore, we could talk about anything, but the axis of this conversation will be the music compositions for drama theatre performances and a short, but significant time spent in Kaunas.
Artist's music is perceived as breaking the stereotypes, even rowdy. I wanted to know how the composer's ideas were received in the beginning of his musical career.
"Back then, such assessments were kind of a compliment, because every young artist wants to be radical and different. When you are criticized and condemned, you feel a hero, a martyr. We should also remember that back then, there was a certain ideology that was directed to all artistic unions. Young people especially had to follow certain rules of creative work," explained Faustas Latėnas.
Faustas Latėnas has composed music for more than 300 plays. "Now probably about 350," adds the composer. "It was an intense period, when I worked in Kaunas, Vilnius, Panevėžys, Klaipėda, in universities and also on my own projects. I remember how music recording would take place at the Youth Theatre every Monday, because Monday is a day off, which means you are not disturbing anyone. The paradox is that the music composed for theatre or other visual arts, would give birth to topics, musical material, which would naturally transform into concert works."
I wanted to know how the composer views the works of today's theatre composers. Faustas Latėnas says, "First of all, a composer in the theatre is not independent, at best, he is the director's assistant. There are very few plays where he is a co-author. Now it is popular in theatre to shock, but our society has been continuously shocked in everyday life for the last 25 - 26 years - from small salaries to major catastrophes. And then you go to theatre and they shock you there as well."
The composer adds, "Now Lithuania, both in art and everywhere else, is undergoing a period desolation, when we do not have anyone who would really stand out. There was a post-Soviet period, the independence movement and etc., and all these creative powers were enough for ten years, but after that came the downfall. I call all that period squalid soil, because the earth is not able to provide harvest all the time, it has to stay untouched for several years, to become overgrown with weeds and stumps. And after some time, that generation will show up again."