Saulius Čiučelis: "I love experimenting" 0
Interview by Deimantė Dementavičiūtė-Stankuvienė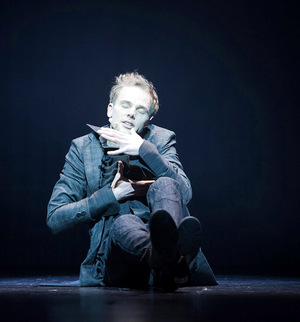 In brief: In the interview the theatre, film and television actor Saulius Čiučelis shares his recipe of success and personal experience how archaeology differs from theatre.
The actor has received the Golden Stage Cross and Fortune awards, which testify his growing success in theatre. S. Čiučelis does not deny his success but believes that it depends on the whole team of a performance as well as on the dialogue of the actor and director. "I do not distribute directors to representatives of the younger and elder generation. I think that a director, the same as actor, has to keep the searching, analysing, questioning and open attitude towards the world," he believes.
The most recent role of the actor was in the performance "Number" directed by Ž. Vingelis. It demanded from the actor to embody into different characters. According to the actor, this was not easy but the rehearsals helped to live up with these different roles and to enjoy the experimentation with these characters.
The actor dreamed of becoming an archaeologist while studying at school, still, the life chose another road to him. Now he may be called the archaeologist of characters. The actor states that each role enriches him with new features. "I read additional literature about every character, I watch films and am interested in details that are typical of that character. In this way I enrich my personality too," S. Čičelis states.
Meanwhile, the biggest dream of the actor is to work with the greatest Lithuanian directors in the nearest future.