Vilija Virkutytė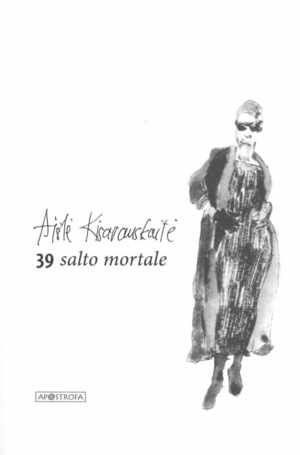 In brief: Aistė Kisarauskaitė is an artist, photographer who organises various exhibitions and contemporary art projects. The author has been publishing short prose works, articles and essays in weeklies Šiaurės Atėnai and Literatūra ir Menas since 2003. "39 Salto Mortale" is the first book of short prose works of A. Kisarauskaitė, and it participates in the Election of the Book of the Year 2013.
The book of A. Kisarauskaitė "39 Salto Mortale" first of all stands out by the unusual title, which may mean 39 deadly jumps, risky, dangerous, fatal steps or ideas.
The genre of the novelette is also not common in Lithuanian literature. The term of novelette is related with music, it is an instrumental miniature in which short lyrical or dramatic themes alternate. Texts of the book of A.Kistarauskaitė are not related by one plot – they are grouped into shorter or longer chapters formed of novelettes of similar themes.
Fragmented story and inter-text is typical of the book. The author demands intellectual preparation from her readers, background knowledge is important.
The book of A. Kisarauskaitė is very visual. Each chapter and often section starts with an illustration. Visual features are felt while reading the text too. The text itself reminds of a drawing. Therefore, the experience of the author as an artist is clearly sensed while reading the book.
"39 Salto Mortale" of A. Kisarauskaitė reveals the daily life which is formed as a collage. Puzzles do not always seem to be simple. The author reveals that daily life may consist of various combinations and unexpected details.