The immortal legend of Queen Louise 0
Marius Vyšniauskas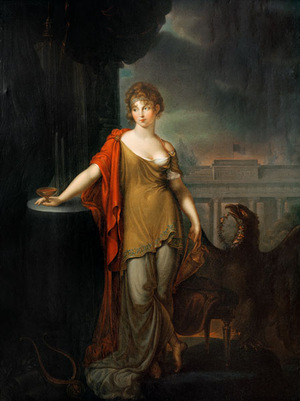 In brief: People interested in Klaipėda's past often encounter the name of the Prussian queen Louise, therefore, this article not only presents the biography of this extraordinary woman, her short residing in this port city, but also an aspect of Louise's cult prevailing in the region.
The legend of the Queen Luise Prinzessin zu Mecklenburg-Strelitz (1776–1810) was born while she was still alive. Thus, the historians of today have a hard time differentiating speculations from the real facts. When the young princess was six, her mother died, therefore she, her sisters Teresa and Fredericke and brother George were sent to their grandmother, Princess George (Maria Luisa Allbertine von Leiningen-Dagsburg-Falkenburg, 1729–1818) in Darmstadt. That is where the girl's character was formed.
However, Louise's frivolous life changed in 1793 when she was presented to the Prussian King Friedrich Wilhelm II near Frankfurt. The seventeen-year old beauty left a deep impression on the king and soon after, his son, the Crown Prince Wilhelm (Friedrich Wilhelm III, 1770–1840) proposed to Louise.
The greatest test for Prussia was the war with France. Although Prussia initially maintained neutrality, when Napoléon Bonaparte's (1769–1821) army was getting close, in November of 1805 Prussia formed an alliance with Russia at the royal crypt of the Potsdam Garrison church. Louise did not remain behind. She was painted among the men by Franz Ludwig Catel (1778–1856).
The queen traveled to Memel through Curonian Spit in a Johan Karl Bitrich's carriage (merchant from Konigbserg) which was exhibited at the Konigbserg Zoo Ethnographic Museum until the World War Two. The tiring journey was depicted in the paintings of artists Johan Heydeck and Ernst Hildebrand.
Sculptures were emerging across the kingdom, for example in Tilsit, Berlin, Memel (one half of the Prussian pedestal was adorned with the oval bas-reliefs of Wilhelm III and Queen Louise). Many books were published glorifying the queen as a beauty, the goddess of vengeance, a hero, a martyr, and people's advocate, matron of the dynasty and defender of the nation.
After Germany lost World War I, the cult of Louise had lost its support nationally. In Weimar Republic (1919-1933) her person was used in such political groups as German National People's Party and Queen Louise's Union (Bund Königin Luise, 1923–1934). In 1947, after Germany lost the East Prussian lands, the cult of Louise ceased to exist completely.