V. Rudinskaitė-Juodzevičienė's abstract world of colors and signs 0
Gabrielė Kuizinaitė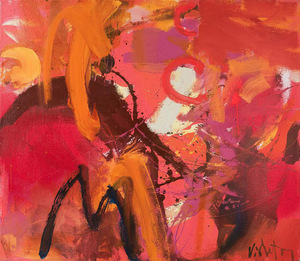 In brief: The solo exhibition of the well-known Kaunas painter Violeta Rudinskaitė-Juodzevičienė "Yellow Sunday" was presented at Kaunas City Museum branch – M. and K. Petrauskai Lithuanian Music History Museum (K. Petrausko St. 31) on July1-30.
The abstract idea in V. Rudinskaitė-Juodzevičienė's works - like in many abstractionist painters' works - is expressed through colors and indefinable forms. In the corner or the middle of the plane, the details and signs of the drawing turn into symbols, create the inner story which becomes apparent through color nuances and an idea encoded in the coloring.
Painter V. Rudinskaitė-Juodzevičienė's main inspiration is a natural landscape, however, she raises existential questions through the transformed natural detail and color abstraction; she speaks about the universal things of the woman's world, her everyday life. This can be confirmed by the minimalist titles of her works that allow the viewer to improvise by adding his/her own individual content: Autumn rain (2008), I'll send you a postcard (2010), Yellow No. 4 (2015), Signs II (2007), Sunlight (2012), Signs I (2007).
Often in the works of abstract painting we see motifs characteristic to traditional Lithuanian painting - fragments of still-life, landscape or an improvised portrait. Meanwhile, V. Rudinskaitė-Juodzevičienė's canvases are dominated by diversity, a variety of motifs and symbols that complement and extend each other. On one hand, works presented at the exhibition, point to the artist's style that was shaped for decades and the general principles of her oeuvre. On the other hand, all twelve works create a suggestive story, which is not boring, does not repeat itself and is full of secrets and surprises.
The painter's work is dominated by abstraction linking the expressively vital form and a remarkable sensitivity for color combinations: from calm, subtle and nuanced to color contrasts creating contradictions, parallels and dialogues. Abstract images in the artist's works are very individual, bright, growing into signs that contain both natural balance and the expression of human emotion that points to the vital style of the artist.