Summer entwined in the white canvas 0
Astijus Krauleidis-Vermontas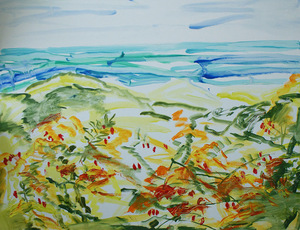 In brief: In the works of Kaunas painter Sofija Rickevičiūtė, nature occupies a very important place and has different expressions, i.e. symbols that make up the whole of her works. The painter stays true to femininity and playfulness, although, she leaves increasingly less unpainted spots on the canvas. In this way a new creative line is being drawn. This can be seen in the retrospective exhibition of the painter "Summer Winds" open at Kaunas Antanas Žmuidzinavičius Collection Museum from December 17 to January 17. 38 works created throughout the year 2015 are displayed.
The painter remains faithful to large canvases that provide the freedom of thought, even though the author claims to abstraction. In her latest exhibition S. Rickevičiūtė leaves less and less white patches on the canvas. "These white parts are not just a simple white canvas, for which I could not find a color. It is also one of the colors of my pallet inherent in the mood of the painting. Without them it would be impossible to express thoughts, states and sensations. It is an integral part of the composition. I do not cover everything, I want to be able to breathe," the artist says.
The eye of the artist intensively captures the definitions of nature, which we all understand differently. Nature is most active in S. Rickevičiūtė's works in the summer. Each painting professes light mood and radiates vitality. There is a sense of ease, she is seeking to refuse tension and to focus onto the image of the Lithuanian seaside (such paintings as Regatta in the morning, Thornes in the dunes, Before the storm or The northern breakwater). The story on the canvas is being constructed easily and graciously with a brush stroke, when a line and abstraction have a deeper meaning than the realistic image or symbol. The artist deliberately chooses to play with lines and forms and in doing so encourages the viewer to look more closely into the world of the painting, perhaps even to identify with the artwork.
S. Rickevičiūtė's works are reigned by flowers - a wide range of them (from roses, hydrangeas, lilies to various floral bouquets). They compose the creative foundation of the artist. From them we recognize the artist in the field of art, especially from the image of roses (such paintings as White roses, Pink Roses or Rosary). It is exactly through the semantics of flowers that the artist notices the beauty of nature, which ranges from mystery to the uniformity of thought. Through the plane of the picture or the white spots that were not touched by the paintbrush, she compels the viewer to wonder what summer he/she sees in the painting and what summer he/she can imagine. Therefore, although it is dominated by rich colors, the chosen paint is quite bright and intriguing and while looking at the work as a whole we recognize a dimmed color (painting Pink roses).
Photos by Jurgita Rimkutė