Quantum criticism – "Suniro" in Leipzig 2015 0
Jenna Jauhiainen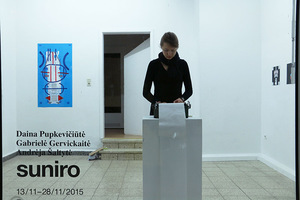 Three Lithuanian artists Daina Pupkevičiūtė, Gabrielė Gervickaitė and Andrėja Šaltytė took part in the exhibition Suniro held at Бükü cultural centre in Leipzig, Germany, on November 13-28, 2015. The exhibition was opened with the performance of Daina Pupkevičiūtė on Nomveber 12, 13 and 14. The lecture Different bodies, similar needs: What bonobos can teach us about the roots of social relationships was read by Liza R. Moscovice on November 16. This is a reflection about the exhibition written by the Finnish art critic Jenna Jauhiainen.
The last two critiques I have written before deciding I to go to Leipzig and write about Suniro were about participatory performances, deciphering the experience of being a wolf (http://occhioalsilenzio.com/susisafari) and floating in a sensory deprivation tank (http://occhioalsilenzio.com/tank). Through those experiences, I think I have a new tendency or a technique in doing critique. When I decided to go to Leipzig, I realized I had to create a moment with the artists. I didn't want to just experience the exhibition on my own terms, but to have a moment where I could reflect upon it together with the artists. And this is what we did. We sat down inside the exhibition and talked about its themes.
There is a pair to meaning production I like to call moment creation, which I think is the real power in the act of criticism – you can take an active role in creating a moment which reveals, distorts and/or alters the meaning of an exhibition which, in its essence, is also a moment created by artist(s) and/or curators. Even if one does not actively create a moment together with the artists, every critic who walks into an exhibition with the goal of writing about it is creating a moment, no matter how solitary. Without an experience of a particular moment that is fundamentally subjective, there can be no criticism.
To define what a moment is, let's just say a moment is something distinct from other moments. This distinction is of course completely subjective and pertinent to perception. A moment may last a second or it may gain momentum in becoming a moment laced with potential new meanings. Right now in my thinking, an art exhibition is (almost) always in a state of momentum because it is as a space where we are prone to look for meaning(s). The artistic potential is thus in the assumption of meaning which is always subjective, not an objective category. The most fertile art moments or momenta are a ground for ideas, encounters and future histories – and, naturally, good criticism.
What varies greatly in the practice of criticism both today and historically in relation to moment creation, is the level of conscious intent. Just by walking into a gallery we create a moment of being in the gallery, which is influenced by the contents of our expectations, experiences and emotional state. The moment we are in with ourselves will influence the moment we have in experiencing art. This is most often a passive process. We do not choose to be bleak or giddy when we go see an exhibition, nor do we decide which of our experiences will we be reminded of and which expectations are best to keep in mind. Moment creation happens only when one actively carves out a particular moment in time. That is what I did with Suniro.
A moment in time is a moment off time
Suniro was an exhibition by three Lithuanian artists that took place in Leipzig in November, 2015. Daina Pupkevičiūtė (b. 1983) is a musician and a performance artist who performed in the gallery over the opening weekend, Gabrielė Gervickaitė (b. 1982) is a visual artist who had multiple collages on display and Andrėja Šaltytė (b. 1988) presented a video-work titled Essay No. 24 (25:55) from the series Klavdija, Grandmother and other Marilyns. The gallery the exhibition was in is called Бükü, short for Office for Cultural Translations, and it has a focus "on contemporary artist's positions from post-Soviet area with all its influences, differences and mutuality."[1] Бükü is run by two curators, Kristina Semenova and Olga Vostretsova, and two artists, Kristina Jurotschkin and Johanna Häring. Both the curators attend the MA program "Cultures of the Curatorial" at the Academy of Visual Arts Leipzig. Established in March 2014, Бükü is an off space, a curatorial collective and "a place where cultural translation is tried as curatorial strategy." All of the artists and curators exhibiting and in residence at the gallery have been, by far, from Eastern Europe.
A gallery also has its momentum. In the case of Бükü, the fleeting concept of post-Soviet is thematically present and what is to be expected are artists and curators from Eastern Europe. The idea of cultural translation as a curatorial strategy also suggests to me that the space is dedicated to exhibitions that attempt to translate something for their audiences, particularly in Leipzig. I don't know Leipzig well enough to assume any audiences there, but I do know that the area of the city where the exhibition was in is called Lindenau. Бükü is situated on a quiet street a mere block from the busiest street of Plagwitz, a part of Leipzig that has in recent years gone through major gentrification. Having an art exhibition in an area undergoing gentrification is always a political and a moral act, because art brings with it a certain prestige especially when placed inside a white cubicle. I think of gentrification as a natural i.e. logical process and see it as beneficial for local economies, at least in the short run. It's not necessarily good for building strong communities or the much longed for "authenticity", I know, but it's what we have to live with in cities that participate in global capitalism. Whenever you find yourself living or visiting a city undergoing heavy gentrification, you are at the throbbing heart of capitalism. What I find intriguing about Бükü is that it co-exists and co-creates a momentum of capital transformation in a city while providing a space for artists coming from the fallen empire, the failed Soviet system.
Even though Бükü professes a curatorial strategy and Suniro is technically a part of a series of curated exhibitions, I found these curatorial connections quite loose in reality. During our conversation, I understood the artists had differing views of the space and its implications, much more than one would assume the curatorial strategy of the space would allow. This disparity is understandable when you take in consideration that, as it often is, Suniro was in practice curated by one of the exhibiting artists, Andrėja[2], who did everything you would expect a curator to do – found the place to exhibit in, chose the artists and wrote the exhibition text. During our conversation, she said her only real consideration about the space was that "it's good that it's white". She of course knew about the gallery's focus, but to her it was not something that she took in consideration as a part of the exhibition's momentum. Gabrielė was the only one who saw Бükü's focus as a beneficial thing, saying "This space has a context. It is a post-Soviet space where people meet, reflect and show what they think. If you exhibit in some other space, you need to explain more, you need to give a context. Here we already have the context ready to be encountered." The question of whether or not that context is relevant was touched upon by Daina, who spoke in length about her relationship to Бükü's momentum.
"I know that Бükü is dealing with post-Soviet culture, but in a way I associate our generation with the generation that doesn't have much to do with the post-Soviet. I mean, we were all born in this context, but we were so small when the Soviet Union came to an end. What I remember most [from that time] is people starting their own businesses like crazy and trying hard, resulting in a big economy boost and a big economic crash. That's what I think about, the social and sociological context, when I think about the post-Soviet. So, for me it doesn't really matter that much as do works by Andrėja and Gabrielė. I think more about the works I am around, not really anything else", said Daina.
The reason why Daina paid particular attention to Suniro's context was that her performance was in direct communion with the exhibition. She performed in the opening, which is rarely the best time to experience art. An opening is a moment often defined by intents of socializing, networking and showing-up. The opening of suniro did not differ much from this norm. Most of the new people I met there were artists themselves. Yet, what broke the usual pattern of chatter inside a white space was Daina. She stood on a little stool by a podium, facing the window and typing away with an old Olympia typewriter which sound was too forceful and strong to be ignored. She was actively challenging the usual momentum of an opening with a performance that begged an answer to the question, What is she writing? Later, in our talk, I learned that Daina was doing what she calls automatic writing, a process in which she lets words flow as they come to her in and of a particular moment. "Automatic writing session begins from thoughts about me in this space, my reactions to what is happening in me and around me, that becomes what I write about. At the end of this [performance], the whole paper will become a body. I will wrap it around me so that it will become a body of matter around me." Daina's performance was in cohesive, beautiful defiance against the wide brushstrokes of Бükü's curatorial strategy. As her performance was in and off the works on display, she managed to embody the thematics of Suniro and show that they were too universal to require a translation.
Daina told us that thematically, she focuses on the female body, transitional bodies and relationships of bodies in different spaces. "I started [the performance] with a series of works called Therapy. I was really down with eating disorders and depression, psychotherapy and antidepressives. It was an attempt to approach yourself doing something to yourself, creating a moment for yourself," she said, adding that she's interested "in the destruction of body, death and how we deal with it, and all kinds of pains." These last remarks are themes that linger around each artwork of Suniro. In making collages, Gabrielė applies surgical analogies to describing her working processes. In her artistic statement or Operation Space Surgery as she titles it, she writes, "My materials – prosthetics, medical corsets, gauze, bandages, adhesive tapes – are marks of personal experiences. They fix memories of anaesthesia as an otherworldly exodus. Surgery turns into a space odyssey, a flight, a trippy departure to other forms of existence. My works are charged with eroticism, because this surgical operation triggers queer intimacies. When bodies get in touch, hierarchies between them, repressed fantasies and silenced phobias are stripped bare".[3]
Gabrielė was my link to Suniro. I first met her and was very impressed by an installation she had on display last summer in Finland during the Näkymä 2015 exhibition in Akaa.[4] Being short stature and born in the Soviet Lithuania, her body bears a unique story. In the early stages of her artistic practice, Gabrielė was working through more personal aspects of her thematic sphere than what she is focused on now. "I think I was working all the time with this [theme] unconsciously. I was hiding myself into a nice form. But when I went to Sweden to Umeå Art Academy and I was alone, I pushed myself and said "Ok, you have a story, so maybe it's time to start speaking about it". That time was a kind of therapy for me but after I left it behind, I have been working in general [with this theme]." This more general level of her working deals with bodies as such without highlighting gender or disability. A particular interest to her are cyborgs – bodies touched by the progress of medicalized society and affected by the ideals of health. "I don't believe there is a healthy society, or at least I didn't see it or need it. Politicians claim that our society is healthy, yet all people have some ailments and illnesses."
The collages Gabrielė had on display in Suniro were deliciously balanced in their intricacy and a brazen rhythm of colours and materials. The images of prostheses and various body parts in her works are sourced from both the internet and orthopaedic catalogues and magazines. Compositionally her works ranged from minimal to bordering excessive, with one piece having curious religious undertones in its arrangement. Despite the visual variety of her works, there was a unifying element there I could not really put my finger on. During our discussion, Gabrielė mentioned an important working principle she calls playtime. "I like to play with forms. It makes it easier not to be depressed about these kinds of works. I put the play in the works and have fun." After her remarks on play and fun, I saw it – all of her works had a curious, almost wry sense of humour. The tone is the same as in those incredibly healing yet tragic jokes we tend to crack in the turmoil of suffering and healing. Humour is always an alternative perspective to whatever we are living through, if not an insight to the arbitrariness of disease.
Andrėja's video series Klavdija, Grandmother and other Marilyns has different women perform the same act: wear a dress or a skirt flowing from the artificial wind of blow-dryers taped to their legs. The original idea behind the series was to use repetition to normalize the iconic image of Marilyn Monroe above a subway gate. As to why only Essay No. 24 was on display during Suniro, Andrėja told us that when she saw the footage she had of her 89-year-old grandmother Klavdija, she noticed levels of meaning which were not present in other parts of the series.
"For me Essay No. 24 was more important because it had the communication aspect which is not there with other women [in this series]. This video is just rough material, only the sound is mixed. Visually it is how it was filmed. It is more about women's changing [appearance] and also about their status in society and how you see not only women, but also other people. My Grandmother's name is Klavdija. For someone else she's Klavdija, but for me she is my grandmother. We have this relationship as granddaughter and grandmother, so to ask her to play this image of Marilyn Monroe is an invitation to see her in another way. Of course it doesn't work, that's absurd – yet [making the video] became a way to communicate, because we don't speak so much about some of the things that are important to me. It is very difficult to explain what I am doing in art. Of course she doesn't understand what I am doing with her here. For me it is something that I am giving to her. In a way she doesn't want to do it, in a way she thinks she is old and not-beautiful – and I don't think she would be glad that the video is being shown to so many people. If she saw how many people were here yesterday she'd go crazy," Andrėja tells.
There was a noticeable disparity between what Andrėja told us about her grandmother's possible feelings on the video being shown in a gallery and my experience of it during the opening. I did not watch it through then, but the few glimpses I had of Klavdija were incredibly uplifting for me. Wearing a bright-red gown, she was fragile and beautiful. Not beautiful in the sense we are conditioned to appreciate female appearance, but in the way of being in an artificial yet gentle moment that had sensuality written all over it. There was something extraordinary and courageous in the act of being on camera like she was. A part of the sensuality in the video builds from a reference to a cinematic moment laced with sexual undertones. What Marilyn Monroe did above the subway gate and overall in her career was to embody a simple, childlike sexuality that was there to be conquered by what we could today call a male gaze. One argument behind that particular "gaze" is that, there is nothing to conquer in women after the menopause. Being aware of it or not, Klavdija was performing a rebellion against a structure in western societies that defines beauty through youth. During our conversation, I said, "I have encountered aging women who [...] have experienced complex emotions because they thought they had lost something that was seen as very important in society – their looks and beauty. We haven't experienced it yet because we are all young and beautiful, but someday we might think we are no longer the person we recognized in the mirror once, that we are not the person anymore society thinks of as attractive, as a fertile ground for the next generation. That can cause bitterness if you are very tied to that idea [of beauty], and if you have accepted it as a part of yourself and have tried to live up to the expectation of what it is to be a woman visually in our culture."
After our discussion, I sat down and watched the 25 minute video throughout, writing my thoughts down. As our discussion had circled around various kinds of pains and the way to process them in art, I paid attention to moments of pain in Essay No. 24. I listed many amongst other notes – pain of setting-up, pain of meaning production, pain of managing yourself in space, pain of waiting, pain of appropriating Marilyn, pain of communication, pain of trying to make it right and pain of re-framing. This list of pains also reflects the structure of the video, filmed from a single perspective. It begins with Andrėja taping blow-dryers to Klavdija's fragile-looking legs. When the blow dryers are turned on, she initially continues to sit, letting her dress flow. As the video progresses, she goes on to stand while supporting herself with the chair and with the aid of her daughter and grand-daughter, until finally being able to stand on her own for a moment. Throughout this process, her presence on the screen is fleeting. At times she seems self-conscious, at times tired and wary. If she was a professional performer, she would be on the edge of her being performing. Because she is not, her presence is more precious, unique and daring.
In all the other parts in the series Klavdija, Grandmother and other Marilyns, the participants attached the blow-dryers on themselves and performed for the camera in solitude. In Essay No. 24, Andrėja is on the screen too, coming and going as she fixes the set-up and assists Klavdija whose hearing is weak. Andrėja's presence brings the viewer closer to the moment creation that is happening on camera. With her on the screen, the moment becomes one of intimacy and co-creation, while simultaneously showing us the discomfort and pains that accompany them. Andrėja's care for Klavdija when creating the rather strange moment on camera is a shortcut to Klavdija's experience, something a solitary image of her would not provide. The beauty of the image is thus not only Klavdija's, but also of her interaction with Andrėja who plays a double role as the director/artist and granddaughter. And as they say, true beauties always have a dash of tragedy. In Essay No. 24, the tragedy is in the insecurity of communication, in not knowing how a multileveled artwork is experienced by the performer.
The last suggestion
A crucial element in creating moments is sentient bodies. If a tree falls in the forest and nobody is there to hear it, will it make a sound? Moments are separated from other moments by a conscious observer who distinguishes between one moment and the other. Coincidentally to this thought, I was in a tiny club in Plagwitz the night after the discussion, writing notes by a small table, when I encountered a local writer (of walls, respectfully) who, for some reason, wanted to talk about the double-slit experiment. It was too loud and my mind was too much all over the place to get his point. Yet, I wrote some notes down and later came to think of it as a good metaphor for the role of conscious observer in realizing moments.
The double-slit experiment is argued to prove that what happens in an experiment is not independent of the observer. Following this line of thought, I suggest art does not happen without an observer. As the last hundred years in art history testify, we are now in a stage when practically anything can be observed as art. In other words, anything can be art if the moment of appreciating it as such is created. Some argue this is the result of degeneration – that we have lost our standards or we have lost "meaning". I see this development as an expansion of not only categories and definitions but also of ways of thinking. Without the cognitive, social and institutional structures to interpret and appreciate art, we have no art. The properties and qualities we recognize as those of artworks are often much more than mere sensory perceptions of particular artworks. The experientially built intellectual faculties we have for interpretation and the curiosity to understand complex and strange conceptual totalities is what makes art art. A painting can be art or it can be a painting. What naturally follows is of course the relativity of art. What art is to a particular observer is not necessarily art for a bunch of others.
All of this is especially true when it comes to contemporary art. Memes that display a contemporary artwork next to a painting from the 19th century still circulate, at least in the Finnish internets, with the suggestion that contemporary art is degenerated or that it is not art at all. Without the necessary frameworks, some observers are unable to experience art that some others perceive as the most important works of the decade. It is a law of nature. The only way to break this law, as far as I know, is critique.
Reading is a process of interpreting. It is quite difficult to read and not interpret the text one is reading. Whenever we read, we observe the text into reality. Even if we do not have the sensitivity and the experiences necessary to appreciate something as something, we can learn through reading. I have liked to think that no matter how difficult or obscure a work of art is, there is always an avenue for writing about it in a manner that is comprehensive to people who are not in the arts. There is always a way to write without relying to references to other artists or works of art, or to philosophical concepts or periods in art history. Not that the aim of good criticism should be to be as accessible as possible. The aim should be to create a moment for experiencing works of art in reading. As the momentum of an exhibition lasts only for a moment, it is good to provide a by-product in a written form.
____________
[1] Quotes from Бükü's website: http://www.buekue.eu/
[2] Because much of this critique was born in conversation with the artists, I am using their first names with the intent of making them more personal to the reader.
[3] http://gabrielegervickaite.com/en/artist-statement/
[4] http://gabrielegervickaite.com/en/shows/nakyma-2015-utopia-toijala-fi/
Photos by Andrėja Šaltytė