Photosynthesis - art from nature to nature 0
Remigijus Venckus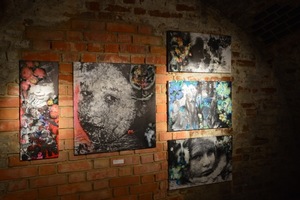 In brief: From the 11th of December of 2015 till the 10th of January of 2016 National M. K. Čiurlionis Museum, Ceramics Museum (Rotušės sq. 15, Kaunas) held an exhibition that featured works created during the creative summer camp Paluodė 2015. The 3rd international camp, which summoned artists of different art fields, was held in June of 2015. The camp took place in Zarasai region, Paluodė, on the Luodis lake shore.
The artists searched for creative ideas during the camp in various expeditions, they visited some areas of the region that aroused the imagination, went fishing, berry picking and sailing in the lake. The evenings were accompanied by intellectual debates, lectures by local lecturers, and film screenings for film gourmands. Inspired by extraordinary impressions and sharing the exceptional experiences, the artists tried to create artworks that were not that characteristic to their usual style.
During the creative summer camp, Romas Mekiša created an installation Fish. Creatively and harmoniously he combined wood, metal and various fragments of things found in Paluodė. The artist's work can be identified as a set of past live(s) fragments. While observing the artwork, the viewer meets things that have not only lost their utility, but have also cleansed themselves from everyday dullness and history of the past.
Faces looking from the variety of textures in K. Ancutaitė's works urge the author to remember a poetic insight by French phenomenologist Maurice Merleau-Ponty, "A human is a mirror to another human. I can see my eyes in the mirror, but they belong to the Other, the one who is watching."
Giedra Petkevičiūtė, with the help of wood, reed and moss, created a very interesting, two-meter tall artwork that comes close to land art concept. Her piece Luodnesė is the Luodis Lake cryptic, an allusion to the myth of the Loch Ness monster.
Using foam, fishing lines and hooks, Remigijus Sederevičius created a forty-centimeter tall Fin. It is a shark fin-shaped bait-dragging little boat attached to the fishing pole. Pragmatic reasons inspired the artist to develop this idea.
K. Maselskytė's work is a copy of a forty-time magnified silver piece of jewelry, which makes us think about the foreign objects intervening in nature, i.e. in this modern civilization it is common that even in the most remote area we will find roads or electricity poles.
Darius Straigis, who has created a 120 centimeter-long Pyramid only from nails and wood boards, suggests similar insights to the ones of K. Maselskytė. It cannot be said whether the artist was joking or deeply convinced (and even the deep and mistaken believes are not forbidden to artists) when D. Straigis stated, "The pyramid of precise proportions was made to increase the energetic powers of the well water, to generate good mood and to strengthen creative potency."