Museum: sacred or destructive space? (Part II) 0
Marius Vyšniauskas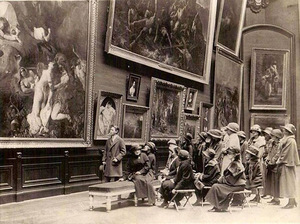 In brief: The majority of society sees museum as a boring sacred space full of angry guards, where it is forbidden to make noise and touch the exhibits. However, museums have changed in the early 21st century and those changes were caused by mass advertising. The enormous tourist lines in front of museum doors, colorful exhibition posters hanging in public, presentations on television and art workshops - all of which, in one way or another, attract people's attention.
French art critics have pointed out that visitors are brought to the museum not only by the hunger for art but also because for the bright interior, in which the exhibited masterpieces reveal a whole new sensibility. The times, when art spaces where bleak white planes are long gone, because the exhibition halls and works showcased in them must create a perfect harmony. In other words, museum is not only a repository of artworks, but also a continuously developing creative body.
It is a shame, but this phenomenon has not yet been sufficiently mastered in Lithuania, because upon entering Vilnius Art Museum, National Museum of Lithuania or Radvilos Palace Museum we are greeted by the cold white walls - the exhibits hanging on these walls are already predestined to vanish in the eternal void. Even the green tones that dominate Mikalojus Konstantinas Čiurlionis Art Gallery do not allow the full opening of the works to the viewer. The only Mykolas Žilinskas Art gallery, after renewing its interior took the harmony of paintings and the exposition into consideration. That is why the gallery, just like the Western museums, is full of rich red, green and blue colors, which, as mentioned earlier, provide the illusion of depth, the sense of interplay of shadows and sun and in doing so stir the imagination of the observer.
In general, it should be noted that art advertising in our country is relatively passive, because everything is overshadowed by only one painter's (Mikalojus Konstantinas Čiurlionis) personality. You will be able to find piles of literature, video and audio recordings on this artist, however if you are interested in painting or sculpture of the 17th or early 19th century you will find almost nothing. Such uneven distribution of information suggests that the old Lithuanian art is tragically undervalued.
On the other hand, the biggest museums of Europe in pursuit of uniqueness, often go overboard and cause frenzy. According to the French media, there are a few museums in the world, prohibiting visitors to sketch or take notes. Most of these prohibitions are in Belgian museums.
After the emergence of smart technologies museums were not left behind. It may come as a slap in the face but you will rarely see people taking selfies in Lithuanian museums, unless it is a Museum Selfie Day, because our museums do not like photography. For example it is forbidden to take pictures at Vytautas the Great War Museum, M. Žilinskas Art Gallery; some other museums do not even provide such information.