Masters and students of graphic arts 3
Kristina Budrytė-Genevičė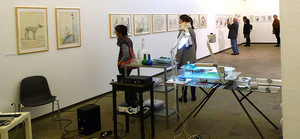 In brief: The art project "Masters and students" is taking place in Vilnius, at Pamėnkalnio gallery of the Lithuanian Artists' Association. Open from the 18th of December till the 9th of January, it features one part of the project - the exhibition "Edmundas Saladžius and students". It is a code name or the simplest password, used for remembering the important meeting places of graphic artists.
E. Saladžius' drawings (Kaunas diary series 1990-1998) is the link between different eras. They reveal currently little-known specific moments of friendship and more general thoughts caught in the web of mythology. As said by the graphic artist, himself, the drawings depict "the people, who made those times fun." Colorful drawings put in one long line in the exhibition force the viewer to move forward and to follow sometimes only one line picturing a fun or sad motif.
G. Grendaitė continues her series of works Flora & Fauna and Emptinesses from around 2012, the Paris residency days. The exhibition features some works from the Flora & Fauna series of 2012-2015 (ink, collage) and from the Emptinesses series of 2013 (copper, enamel, graphite). The four-year period did not exhaust these thematic explorations, even on the eve of the exhibition the author continued to work in that direction. The main favorite techniques also remained - drawing in ink on paper and the use of enamel on copper.
O. Judakova working with classic graphic techniques was a new discovery for many in the exhibition. The author, who rarely holds exhibitions, this time exhibited her linocut and dry point works. All their titles in English seem to suggest author's main creative inspirations - travels.
I. Raudonikytė fascinated by computer graphics also exhibits part of her series Only girls in the kitchen (2014, digital print). As we can see, after choosing the kitchen aura, I. Raudonikytė discovers the entire world in it: female body contour is filled with bright utensils and through an open window lush vegetation can be seen. Sometimes it can be hard to pinpoint the place of the plants - it can be an aloe on a window sill or black branches far away.
The exhibition opening featured an audiovisual performance of the 2015 Hairy mouth by Psilicone Theatre (Auksė Petrulienė and Darius Petrulis), which was displayed after the opening as a video next to the stand with the silicone dolls from the performance.