Glass art experiences in Estonia 3
Raimonda Simanaitienė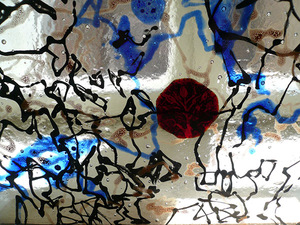 In brief: Naturally, various travels and new experiences and impressions coincide with the summer time. In July I was able to get thoroughly acquainted with the Estonian glass artists' work and their exhibition activities. I can claim that this time, the most interesting discoveries of this field did not happen in Tallinn, at the Estonian Academy of Arts (which is famous, since the interwar period, with its strong artistic glass education) but in the province - towns of Olustvere and Järvakandi in the central part of Estonia.
The most famous Estonian glass artist exhibition "Moment" is currently exhibited at the recently-established gallery Hetke by Järvakandi community. All this discloses a very important feature - Estonian artists do not avoid cultural events in the province. To promote the wider processes of art knowledge they organize interesting events in regional and very small areas.
Olustvere town has an even more favorable situation for cultural tourism and infrastructure. The history and architectural heritage of this small town (there are about 450 inhabitants) goes back to as early as 17th century. Olustvere is famous in Estonia for the best preserved manor, which is used for community and guests needs. The manor homestead is surrounded by a romantic English-style park.
Exhibition "Interpretations" has recently opened at the art gallery of Olustvere. While organizing the event initiator of the project, Professor in Estonian Academy of Arts Glass Department Mare Saare, sought to encourage the young artists to look more profoundly into the art of glass and lean onto the roots of world's glass-work while creating.
Works presented in the exhibition belong to glass specialty students who come from six different art institutions. All students participating in the exhibition presented a description of creative interpretation and the source of inspiration - a photograph of the historical glass piece, thus it was interesting to observe the exhibition not only in a visual and aesthetic sense but also in an educational sense. Reading the comments of glass artists, it became clear why they chose one inspiration object or the other. Texts provided historical knowledge about the evolution of glass-work and also helped clarify what specific objects are relevant to contemporary glass artists, what their attitude towards the old values is and what aesthetic and technological characteristics students from various countries highlight and emphasize.
Photographs belong to the author.