A look at the poeticized world of A. Petrašiūnaitė's paintings 5
Gabrielė Kuizinaitė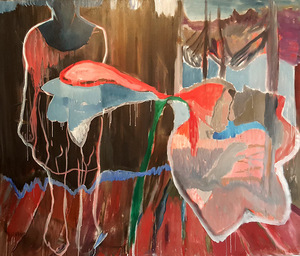 In brief: This winter the works of the famous artist Audrinė Petrašiūnaitė were presented in two Kaunas galleries: at Parkas gallery the exhibition of works painted in 2014 and 2015 "Two Possibilities of Nature" was organised and the exhibition of several works "Silent Life" was presented at Kaunas Picture Gallery.
In the painterly world of A. Petrašiūnaitė dialog is of the utmost importance - between human and nature, a subtle and playful presentation of the relationship between the painter's beloved cat and herself. However, the image that artist presents in her work is temporary and fragile; it opens up through the human image and the fragments and details of the surrounding world.
Artist's paintings stand out from the other famous Lithuanian painters with their unique and ever-changing coloring and its diversity. A. Petrašiūnaitė's large format canvases are dominated by dark green, green and brown-pink, blue and red tones and hues. Precisely the color combinations, their harmony and conflict and unexpected abstracted image of human and nature provide the painter's works with a lot of subjective and emotional dynamism. In the Lithuanian painting context she stands out with a subtle style, painterly narrative expression and variety of topics. In the artist's work dialog with nature and being in a familiar environment is of the utmost importance as well as an image colored in personal relationship, an event, a suddenly noticed detail from everyday life and its "inscription" into the convivial, colorful interior where signs and recognizable contours remain. Considerable amount of attention is given to the different nature motifs.
A. Petrašiūnaitė's paintings are dominated by spring, summer and autumn cycles, their change. Through color and nature's movement she captures the colorful world of flowers and trees, which gains a symbolic meaning of poetic metaphors.
In her work Light has descended (2015, oil on canvas, 115 x 145 cm), in a quite abstract interior artist sort of suspends the moment, brings together the worlds of two individuals - female and cat.
The works of the current period are dominated by a versatile pallet of colors ranging from muted to bright hues. Artist separates the topic of nature dialog and relationship with nature in her large canvases to sub-themes that are very important in her oeuvre - the change of natural states and cycles. All this is brought together by author's harmonious relationship with nature, the environment she inhabits. The shift between seasons, natural cycles, elements and quiet is reflected in many of her works: Enfolded in autumn (2015), Spring (2015), Wrapped in autumn (2015), Two natural possibilities (2015), Autumn deer (2015).