Images from the ashes. Film - Son of Saul 0
Tomas Genevičius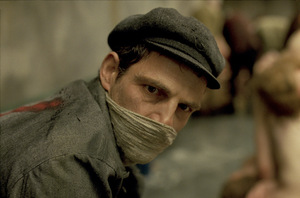 In brief: Currently, Lithuanian cinemas are screening Hungarian director László Nemes' (1977) feature film Son of Saul (2015, distributor: Scanorama). This film stands out among many other films about the Holocaust. The director is seeking to convey this tragic event of humanity as a personal experience that is happening in the present. He combines different forms of action and avant-garde films; creates and retains suggestive moral allegories, up to the last frame.
Action in the film takes place at the Auschwitz concentration camp in 1944. It would be difficult to call the main character Hungarian Jew Saul Auslander (played by Hungarian poet Géza Röhrig, 1967) a hero in a usual sense of the word. Saul is one of the members of Sonderkommando concentration camp squad, which was made up of Jews by the SS, forced to work at the Nazi "death factory."
We see Holocaust in this film like never before - in a close-up. The camera follows the main character abreast, from behind, providing his scope of a few days in real time. On his scuffed clothing there is a big red cross - a target for Nazi soldier's bullet and cinematographer's camera.
In the beginning of the film, among the gas chamber victims Saul finds a still breathing boy, whom he unsuccessfully tries to save and later calling him his son aims at secretly burying him.
Saul's choice to bury the child, when there are thousands being killed next to him, seems irrational and crazy. Although it cannot be completely excluded - it is not a loss of mind that happened because of facing the horror, because this madness is not as telling, in comparison to what is happening around him. Because it does not matter how many people chose morality instead of rationality of self-preservation, what matters is that at least someone chose it. "Irrational" actions of Saul are a spontaneous attempt to save humanity in places where it was completely wiped out, because the Holocaust itself came in to being after destruction of humanity.
It can be argued that the Holocaust and its representation in the film is concentrated, but all the hell is well felt and implied. It is created in the viewer's mind with claustrophobic images and sounds coming from all the sides - these are the scrapes, moans and whispers of the constantly rotating death factory (you can hear eight different languages in the film).
Son of Saul is an impeccably made film of a unique form that does not have a single beautiful frame. Although L. Nemes' debut work received an Oscar this year (a best foreign language film) it is neither a pleasant nor an easily experienced film; in it, ethical objectives affect the questions of aesthetic representation.