French cinema, mon amour 0
Enrika Striogaitė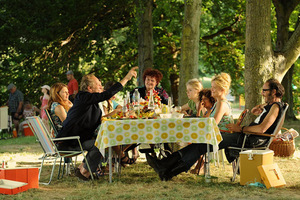 The festival of French cinema Winter Screens usually takes place when the winter with its full-blown flu and other viruses has already been tormenting enough and you especially feel like looking not out the window but at the screen, in which you are drawn in by another reality for an hour or two, providing strong emotions, feelings and thoughts. French cinema is amazing, it stands out in the context of all film festivals; it is difficult to define it - the best is to feel it.
As always, the festival opened with a much lighter, more mainstream film. This year in the Winter Screens it was a comic, ironic and romantic film, by Jean-Pierre Ameris' Family for rent that was very easy to watch. The film is about a rich man who has dedicated his whole life to work and who decided to escape the tight grip of depression by renting a family. Although the film is light as a feather, it is not flat. The French always, even in the most banal situations, are able to create several layers, in the end captivating with simplicity and every day, mundane situations familiar to everyone.
The second opening film of the festival, as usual was even better - deep, touching to the deepest part of the soul, cleansing and purifying. Same director Jean-Pierre Ameris' film Marie Heurtin created based on the real life events, film is a song of sacrifice, true servitude and pure love.
Director Zoltan Mayer's Journey through China is a heavy (mother travels to China to bring back her son's remains, who had died in a car accident) film, but also transforming the lament and containing a lot of light. China also is seen in a different light than usual - no travel and promotional angles, because generally, Journey through China rises up to the highest understanding of the word "journey." It is a heavy, tragic and great film.
Vincent Mariette's comedy Fool Circle is a bit banal and slow film about two brothers, who had stopped communicating with their frivolous father, who had betrayed his family once. The brothers arrive to the fake funeral of their father, invited by their fake sister. There are so many things mixed together; a bit schizophrenic and in the end the film seems to be about nothing. On the other hand, French are French and they are capable of creating a film about nothing from which you do not leave, but even become involved as it continues.
One of the pleasant parts of the Winter Screens is the French filmmakers' retrospective. Therefore, visiting Winter Screens annually can significantly broaden your knowledge of the French film.