Arūnas Kulikauskas: photo diary in the times of Facebook 0
Ramūnas Čičelis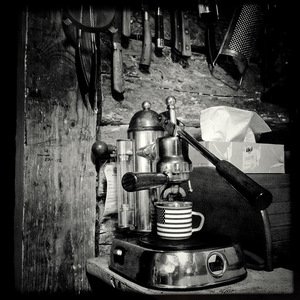 In brief: A. Kulikauskas' photo diaries are special and can be distinguished by the fact that author, in his photographs captures what Lithuanian semiotician Algirdas Julius Greimas - who lived in France after the World War Two - called the "aesthesis" in his last book On Imperfection. Aesthesis is an unexpected flash of light in the dark, when things are seen in a new light.
In the middle of the last decade, no one could have imagined that soon a time will come when almost all the people in the world will be creating their life diaries on their social networking profiles. When the time came, the value of photography was seriously shaken - it has become very easy to make a technically high-quality picture with this technological development; it was only one click away.
This context, however, has some photographs that attract the viewer's attention and keep it for more than just a few seconds. One of such migrant Lithuanian photography representatives is in Ukmergė district. Artist Arūnas Kulikauskas lives in Samantoniai steading with his family after recently returning to Lithuania from the United States city of New York, where he had spent more than a decade.
Upon his arrival to the US, A. Kulikauskas met the legendary Lithuanian artist and poet, New Yorker Jonas Mekas. He hugely influenced Arūnas Kulikauskas and partially formed the features of his second creative period, especially a tendency to capture reality in a diary-like manner.
The diary narrative, told with a word or an image is always associated with autobiography. One way or another, author conveys his approach to the environment and himself on that day, after creating an autobiographical photo diary.
All four corners of A. Kulikauskas' photographs from his photo diaries are darkened, therefore, what remains light is equivalent to the aforementioned flash of aesthesis. The reality seen and captured by the artist, in each case is like a birth or reality, for which, the factor of subjectivity is only partially valid: village objects in A. Kulikauskas' photographs live a separate life, independently from humans. With his lens, photographer, each time causes them to emerge anew, to brighten so much that the everyday parameters would be rendered meaningless.
A. Kulikauskas' photographs from his photo diaries are, without exception, monochromatic - author does not move away from the classics, because he almost does not edit his photographs. Technical parameters of his works are essentially the same, regardless of what A. Kulikauskas captures. Author of the photographs has experienced a relatively strong influence by the Buddhist religion and philosophy and thus he dissolves in his photographs. A. Kulikauskas clearly understands that there is more authenticity and truth on the other side of the lens.