The importance of identity for the city of Kaunas 3
Laura Rimkutė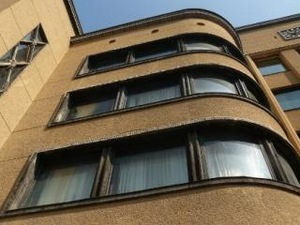 In brief: Kaunas does not have a strong face. The general public, not the residents of Kaunas or representatives of cultural heritage, often associate Kaunas with Žalgiris basketball team. However, this is not the true identity of the city, which should consist of history, culture and social areas. In recent years, the actions carried out by both Kaunas City Municipality and Architecture and Urban Research Center in respect to Kaunas interwar period modernism contributes to the shaping of the somewhat different image of Kaunas.
The year 2015 was extremely culturally favorable for Kaunas. In April, the interwar period modernist architecture was awarded the European Heritage Label and in December Kaunas was granted a UNESCO City of Design status. Since Kaunas with its interwar period modernist architecture seeks to be included in the UNESCO World Heritage List, we could say that last year's achievements brought the city a little bit closer to this vision.
A city, after receiving this status, acquires a greater variety of obligations that must be met, otherwise it faces removal from the network of creative cities. One of the most important obligations are the reports on changes taking place in the city after it has become the part of the network. They are very important in order to ensure the benefits. The head specialist of Kaunas City Municipality Cultural Heritage Department Andriana Filinaitė says that "Kaunas will have to encourage the artists' residency programs more actively; to increase the international promotion of Kaunas; to create a unified and comprehensive information system for Kaunas interwar period modernist architecture promotion and to create an appropriate infrastructure to ensure the city's creative visibility."
One of the more interesting projects is the tour Kaunas - the city of design, organized by Kaunas Tourism Information Center and public institution Let's beautify Kaunas. The tour consists of visiting the main interwar modernist objects, but the essential attraction of the tour is the opportunity to open the doors of Kaunas residents, who live in the interwar period houses and who had kept the unique interior of the interwar period. This tour should cause a considerable interest, because it is a unique opportunity to see the historical relics in today's environment, performing their function instead of collecting dust at the museums.
Kaunas inclusion in to the UNESCO Creative Cities Network will not only bring the tangible material benefit, but will also highlight the city's identity, which is so important these days. Perhaps, just as we associate Vilnius with Gediminas Castle and Lithuanian history, we will associate Kaunas with impressive modernist buildings of European level that are also a very important part of our history and culture.