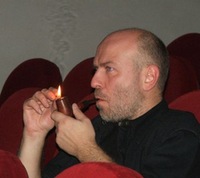 R.Atkočiūnas was born in Kaunas on the 16th of August of 1961. He graduated from Moscow B.Shchukin State Theatre Institute in 1990 and worked in Moscow theatres thereafter. In 1993 the director founded Kaunas Small Theatre, in which he cooperated with the artistic group formed by Valentinas Masalskis "Art Aside" (Vidmantas Bartulis, Post Ars group, Ridas Jasiulionis, Audronė Paškonytė, Vida Savičiūnaitė, Robertas Vaidotas) in the first years of the theatre existence. He was the art director of Šiauliai Drama Theatre in 1994–95, and director of this theatre in 1998-2001. From 2005 the director heads Liepaja Drama Theatre (Latvia) and continues his creative work in Latvian theatres.
Works directed in Latvia and Lithuania:
Liepaja Drama Theatre:
2009 – "The Party Has Finished..." according to "Suicide" of N. Erdman
2009 – M.Kamoleti. "Pyjamas for Six"
2008 – M.Gavran. "All about Women"
2008 – R.Schimmelpfennig. "Arabian Night"
2007 – M.Gavran. "All about Men"
2007 – A.Chekhov. "CV (Uncle Vania)". Nomination "The Best Performance of the Year" and "Director of the Year" of 2006./2007 of annual Latvian theatre awards "Spēlmaņu Nakts"
2006 – Jean-Paul Sartre. "Behind Closed Doors"
Riga Art Theatre:
2010 – "Code of Versailles" according to the play of M. Bulgakov "Cabala of Hypocrites"
2009 – Ē. E. Šmitas. "Small Family Crimes"
2008 – R.Šartas. "Maurice, Name of My Wife"
Riga Russian Drama Theatre:
2009 – H. Gardner. "I'm Not Rappaport"
Kaunas Drama Theatre:
2010 – T.Guerra. "Fourth Chair"
2009 – Biljana Srblianovic. "Locusts". Highest Kaunas theatre award, Fortune statues granted for roles in the performance to actors Dainius Svobonas and Inesa Paliulytė.
Works directed before Latvian period:
2008 – Francis Veber. "Lunch with an Idiot" (Klaipėda Drama Theatre)
2006 – Arthur Kopit. "Oh Dad, Poor Dad, Mama's Hung You in the Closet and I'm Feelin' So Sad" (Liepaja Town Theatre)
2006 – Roland Schimmelpfennig. "Woman from the Past" (Juozas Miltinis Drama Theatre)
2005 – Marc Camoletti. "Pyjamas for Six" (Panevėžys J. Miltinis Drama Theatre)
2004 – Arthur Miller. "Salem's Witches" (Kaunas State Drama Theatre)
2003 – Patrick Marber. "www.prisilietimas.net" (State Youth Theatre)
2003 – Tom Stoppard. "Real Thing" (Juozas Miltinis Drama Theatre)
2002 – Yv Jamiaque. "Monsieur A." (Klaipėda Drama Theatre)
2002 – Patrick Süskind. "Double-bass" (Kaunas Youth Chamber Theatre)
2000 – Anton Chekhov. "Unfinished Play (Fatherless)" (Klaipėda Drama Theatre)
2000 – Therence Rattigan. "Lady without Camellias" (Šiauliai Drama Theatre)
1999 – Athol Fugard. "Dimetos" (Šiauliai Drama Theatre)
1998 – Peter Ustinov. "Photo-finish" (Klaipėda Drama Theatre)
1997 – Jean-Paul Sartre. "Behind the Closed Door " (Klaipėda Drama Theatre)
1997 – Luigi Pirandello. "Henry IV" (Šiauliai Drama Theatre)
1995 – Aleksandr Detkov. "Eternal Return" (Šiauliai Drama Theatre)
1995 – Kostas Ostrauskas. "Čičinskas" (Šiauliai Drama Theatre)
1994 – Athol Fugard. "People Are Living There" (Šiauliai Drama Theatre)
1994 – August Strindberg. "Miss Julie" (Kaunas Small Theatre)
1993 – "Late Evening in Future" (Kaunas Small Theatre, centre "Art Aside")
1992 – Arthur Miller. "The Price" (Šiauliai Drama Theatre)
1991 – Tennessee Williams. "Kingdom of Earth" ("The Seven Descents of Myrtle") (with Michail Jevdokimov) (Lithuanian Russian Drama Theatre)