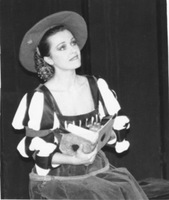 Aušra Cicėnaitė-Uždavinienė (soprano) was born in Vilnius on February 6, 1963. She was a pupil of the 16th Secondary School of Vilnius. In 1981-1983 she studied at the preparatory vocal class of the Lithuanian State Conservatory (now Music Academy). In 1988 the soloist completed vocal studies in the class of Prof. V.Prudnikovas.
Since 1990 she has been working as a soloist at the Kaunas State Musical Theatre. Cicėnaitė created many significant parts in operas, operettas and musicals. In 1988 A.Cicėnaitė was selected as the Kaunas Soloist of the Season (Fortune prize) for Euridike's part in the J.Offenbach's operetta "Orphée aux enfers". In 2002 she received Operetta Artist of the Year prize of the Lithuanian Ministry of Culture for Anina's part in J.Strauss' operetta "Eine Nacht in Venedig".
In 1997 and 1998 A.Cicėnaitė recorded archive records of the Lithuanian emigrant composers G.Gudauskienė, V.Jakubėnas, P.V.Sarpalius, K.V.Banaitis, B.Budriūnas for the Radio of Lithuania (concertmasters D.Encienė and E.Kuprytė). The singer is participating in all concerts of the theatre, is preparing programs together with her colleagues, has prepared a solo program, has been on tours in Sweden (1996, 1997), the USA (1997), Canada (1997), Austria (2000).
A.Cicėnaitė created parts in operas, operettas and musicals.
Roles:
Deizi. P.Abraham operetta "Ball in Savoy", 1990,
Gilda. G.Verdi opera "Rigoletto", 1991,
Stasy. E.Kalman operetta "Silva", 1991,
Cerlina. W.A.Mozart opera "Don Juan" from 1991,
Marcelina. L.Beethoven opera "Fidelio" (1992),
Adele. J.Strauss operetta "Bat", 1993,
Adina. G.Donizetti opera "Elixir of Love", 1993,
Margarita. Ch.Gounod opera "Faustus", 1994,
Mable Gibson. E.Kalman operetta "The Circus Princess", 1995,
Maria. L.Bernstein musical "West-side Story", 1995,
Rūtelė. K.V.Banaitis opera "Jūratė and Kastytis", 1996,
O Lia San. P.Abraham operetta "Victoria", 1996,
Bela Giretti. F.Lehar operetta "Paganini", 1996,
Marta. F.Flotow opera "Marta", 1997,
Euridike. J.Offenbach operetta "Orpheus in Hell", 1997,
Eliza. F.Loewe in musical "My Fair Lady", 1998,
Widow. D.Kander musical "Zorba", 1999,
Liza. F.Lehar operetta "Land of Smiles", 2000,
Charlote. K.Millcker operetta "Gasparone", 2001,
Rosalinda. J.Strauss operetta "Bat", from 2001,
Anina. J.Strauss operetta "Night in Venice", 2002,
Angela. F.Lehar operetta "Count Luxemburg", 2002,
Salomėja. G.Kuprevičius Kaunas operetta "Kipras, Fiodoras and Others", 2003,
Odette. E.Kálmán operetta "Die Bajadere", 2004,
Micaela. G. Bizet opera "Carmen", 2005,
Lilli Vanessi-Katharine. C. Porter musical "Kiss me, Kate", 2007,
Ninon Tisje in operetta by E.Kálmán "Violet of Montmartre", 2008.