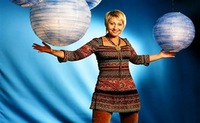 Audronė Daugėlytė (Grėbliauskienė): "I am happy because I love my work".
A.Daugėlytė was born in Kaunas on October 29, 1963. She studied at the 28th secondary school. After graduating from Marijampolė Cultural School, she entered the artistic director's specialty at Vilnius Conservatory, Klaipėda Branch in 1981. In the autumn of 1985 she started working as an actress at Kaunas State Puppet Theatre.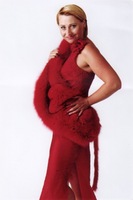 In 1991 she was invited to present the TV show "Congratulations Concert".
In 2000 she was filmed in the Lithuanian TV series "Hopes and Temptations", where she played the role of Milda.
From 2003 A.Daugėlytė has been the presenter of the TV3 show "Labyrinths".
A.Daugėlytė plays a part in the poetry performance "Fast Poetry" of the Puppet Theatre according to the poems of H. Radauskas and J. Marcinkevičius.
She created the role of Vrage in the performance "Top Dogs" by Urs Vidmer at Kaunas Small Theatre.
A.Daugėlytė played more than 50 roles at the Puppet Theatre. The following are the brightest ones evaluated as the best roles of the season:
Oscar Wilde "Princess's Birthday" – Princess (the most beloved role).
"Gipsy Ringla" – Ringla.
"Witch's Inventions" – Witch.
"Let's Save Gugutis!" – Emilytė.
"Princess's Kiss" – Princess.
Oscar Wilde "Star Child" – Star child.
"Mystery of Snow Wisp" – Hare.
"Cat's House" – Cat.
"Hare's Whims" – Fox.
"Beauty and Monster" – Beauty; and other roles.